WELCOME!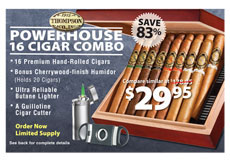 Get Your Powerhouse 16 Cigar Combo Now!
Only $29.95 - Save Over 83%! Includes: 16 premium hand-rolled cigars, cherry wood finish humidor (holds 20), a ultra-reliable butane torch lighter, a guillotine cigar cutter. To take advantage of this great deal, use code TA233 online!
---
Request a FREE CATALOG and Sign-Up for Special Offers!
Enter your email to receive special promos, discounts, and new product announcements from Thompson Cigar. You can also enter your mailing address to receive our FREE color catalog, packed with cigars and accessories that are second to none.
CLICK HERE to proceed to this website.